"That's My Story and I'm Sticking to It"–An Interview with Melody Beattie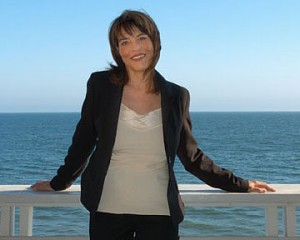 Melody Beattie is the author of, most famously, of Codependent No More.  She talked to WTCI via email about codependency, therapy, and writing.
How can clinicians use the concepts from your books with clients in therapy?
Codependent No More was written with therapists in mind, because you can't even talk to a person until you get their mind off the other person.  But it's really simple–it's all about believing in people, and empowering them.  Letting them think, letting them feel, telling them they can figure out what to do next.
So many people want their clients to become dependent on them.  That's crazy.  No, I mean it's crazy.  How can anyone tell any other human being what to do?  Besides, codependency is an inside job.  You can have two people doing the same thing–one is healthy, the other isn't.  It's all about motives, and whether we've taken responsibility for our choices.
I only have four rules with people:  don't hurt anyone else (physically); don't let anyone hurt you (physically); don't hurt yourself (physically); and I can't ever remember the fourth.
Has your thinking changed since writing Codependent No More?
It was my goal to write a book that would help not only people suffering from codependency, but to help therapists at a loss about what to do with their clients.  I believe writers need to have their goals and objectives in mind before they write whatever they're working on, and I did with Codependent No More.  I feel blessed that the book accomplished its goals.
In recent years, I'm beginning to see the link between chemical dependency, codependency, and unresolved childhood grief.  It comes in layers.  So much of codependency is people stuck in their grief from losses they're either aware of, or unconscious of, from childhood.  They don't know they're grieving, so they continually act out whatever stage they're in, and the behaviors that come with that stage.
The grief–the pain–becomes more than they can handle.  They either self-medicate by using drugs or drinking, and then the "cure" becomes a disease of its own.  Or they get locked into denial, anger, bargaining (manipulation)–all to postpone the sadness that people ultimately feel with grief.  It's not about blaming our childhoods; it's about taking responsibility for our feelings and our choices as adults.
Lately I've been talking to people about incorporating dealing with these childhood losses in treatment or family group.  It's a version of what we call "Family of Origin" work.
Suddenly it's all becoming clear.
I've been invited to come to Japan for two weeks to assist them in establishing both chemical and codependent treatment for women.  Five years ago, they began offering treatment to men.  Right now, women who "bring shame upon the family" by using drugs and the behaviors associated with it go to parks established for the purpose of ending their lives–suicide parks–in Japan.  At least, this is what I've heard from the people inviting me to come as an ambassador of recovery.  They're where we were forty years ago with recovery.  It's an honor, and I'll do everything I can to facilitate it happening.
You've gotten a tremendous amount of writing done.  What's your writing process?
I took the principles that helped me the most (empowerment/TA) and turned them into chapters.  If you dissect Codependent No More, you'll see them:  You can think; you can feel; you can take care of yourself; and you can let go of who or what you cannot change.  Right now?  I'm emailing you.  Goal:  Live in the present moment, whatever that brings (and be grateful for all of it).
The Grief Club Website is how I make my son's death count–it's too important (losing him) not to make it mean something.
My writing process is like my romantic relationship process:  love/hate, lay on the floor and tear out my hair, then get out of my way.  What I think sucks sells and what I think is great, well it doesn't sell as much as what I thought sucked.
From day one of setting my writing goals, many many years ago–it was my goal to spend the last half or so of my career writing screenplays.  I've been studying screenplay writing diligently; my first one I optioned, but I had to go back to book contracts.  I wrote that one with a writing partner.  It's a new challenge–fun–and I'm so, so ready for that because the last decade has been hell.
All three of my exes died–two of them died back to back.  One died one day, the other the next.  Had their services in the same chapel, their obits were in the same paper, same day– I was listed in both obituaries as "ex wife and dear friend."  That's a good testimony.
Someone had to intervene because my mother had given Power of Attorney to the wrong person, as many frightened, elderly people do when they realize they're becoming vulnerable.  I had to take it to court, undo the damage that had been done.  My mom was probably six weeks away from dying from neglect and malnutrition when I intervened.  It broke my heart.  She had Alzheimer's disease.
Then, my back had trouble. After four months of daily pain, I went to the ER–two discs were completely and totally gone.  I went to Germany and had them replaced with artificial implants, then had to go home and lay in bed for a year.  (It was after that I did the mom thing, actually).  Then, I promised my mom I'd have the courts hold up a will she made when she was in full-blown Alzheimer's. She wouldn't let go and die until I did.  (Have to watch the movie for that).
Then, I had to catch up on my writing contracts (four or five books) and learned how to make web sites–and then, just when I thought I could really get going on my screenplays, I discovered someone I trusted had stolen half a million dollars from me.  I've spent the last year working on that–horrible, God-awful paperwork.  Now, it's time for a new season to begin.
That's my story and I'm sticking to it.
Find Melody Beattie online at MelodyBeattie.com and The Grief Club at MelodyBeattie.net.  Find Codependent No More other titles at Amazon.
Leave a Response
You must be logged in to post a comment.