Interview: Buck Black, LCSW of TruckerTherapy.com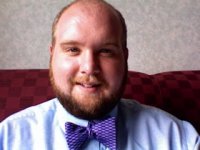 Buck Black, LCSW is a Lafayette, Indiana based therapist who has found a niche working with truckers remotely, using Skype.  He talked to Where the Client Is the old-fashioned way–via email.
What's your background? What do you do now?
I am a Licensed Clinical Social Worker in the state of Indiana and have a Master of Social Work degree from Indiana University. I also have a Bachelor Degree from Purdue University with a double major in psychology and sociology, as well as a computer technology minor. I have worked in community mental health as a therapist specializing in anger and stress management. I served clients in the addictions, sex offender, PTSD, and Bipolar populations. I also worked crisis intervention shifts at a psychiatric hospital where I would help a client avoid psychiatric hospitalization by hooking them up with services or helping them be admitted to the hospital, depending on need.
Currently, I am in private practice providing face-to-face services in my Lafayette Indiana office. I also provide services via Skype, phone, and email throughout the country and around the world at www.BuckBlack.com.
I specialize in anger management (using an evidenced based model), as well as stress, couples therapy, and various sexuality issues. All of these services are provided in my office or online and over the phone.
I cater to truck drivers at www.TruckerTherapy.com. Here, I provide all of my usual specializations and talk with truckers mainly via phone and Skype. This service is valuable to truck drivers because they can work with a licensed therapist while they are on the road. This service allows many truckers to get help when they ordinarily would not. Since I specialize in working with clients from the trucking industry, I am able to understand and help them with many of the unique nuances stemming from being a trucker and having anger, stress and/or relationship issues.
How did you find your way to Skype therapy and to working with truckers?
I started doing Skype therapy a year ago. I wanted to find ways to expand my private practice, so I attended a private practice workshop. There was a focus of using Skype to help people from all over the world. I liked the idea and then started talking with friends on Skype to test the technology. It was very neat and worked well. Ever since I became hooked on Skype, I have been using the service to talk with more and more clients. Both the clients and I enjoy Skype because it takes the travel out of the equation.
I started working with truckers over the phone and Skype because truckers who came to my office were unable to keep office appointments (due to being on the road for weeks at a time). It seemed natural to specialize in helping truckers because there is a strong need to have the flexibility of using the phone and Skype to allow them access to mental health services.
I find working with truckers while they are on the road to be rather rewarding. I know that I am providing a very specialized service for them because few therapists are willing to talk with them outside of the office. It is challenging to work with truckers because they have their own culture and I am an outsider. However, the more I work with truckers, the more I am accepted into their community. I do have a trucker friend, so that helps greatly.
What difficulties or limitations have you encountered in providing phone and Skype therapy?
My most significant difficulty I have is getting potential clients to recognize that I am a real therapist who is qualified to help them. Many people seem to think that a person who is trying to do therapy at a distance is a fraud. This is why I offer free 15 minute consultations. Other difficulties for me are people who only want to do traditional "face to face" therapy. I'm glad to do therapy in my office, but I hate to see people drive long distances to talk with me when I know there is a much more efficient tool.
How is therapy different over Skype? Do you notice any change to the sense of connection and relationship between you and clients?
Services are different over Skype. I think the biggest challenge is the client's quality of equipment (mic, camera, computer, and internet connection stability/speed) and the occasional unavoidable technical glitches. So, that is something you usually don't have to deal with in an office setting. I always give my clients my phone number and keep my phone next to my computer when doing a session. If the connection fails, the phone is a good backup.
I believe there is a good sense of relationship between the client and I when using Skype. Of course, Skype is limited in the amount of body language one can see and it does not replace face-to-face contact. However, I have had client's turn their cam around so I can see their house. This is helpful in letting me see a bit more about them. However, the client must want to use Skype. If the client does not like the technology, then the relationship would be very difficult to form.
Are there any other limitations—legal or ethical?
As far as liability for distance therapy, it seems no one can give me a good answer. The conservative answer is to do only face-to-face therapy. It has also been stated that it is okay to do distance therapy while practicing within your state. It is generally accepted that using the term "coaching" is a way to protect one's self from liability, instead of using the term "therapy." This is because "coaching" is largely unregulated.
It is very important to make sure that you are providing services to a client who is not homicidal/suicidal. If the person has a chronic mental illness, distant services probably are not the best option. I screen each client to ensure his/her goals are attainable over the phone or with Skype. If I feel there may need to be a need for emergency services or a high level of care, then I refer to face-to-face therapy. I urge readers to visit The International Society for Mental Health Online (www.ismho.org) for more details.
Any final words of wisdom for people trying to build a private practice…?
My advice for new therapists building a private practice is to join Linkedin and Facebook (feel free to add me to your contact/friend list). These are great tools for marketing. Also, joining mental health groups on Linkedin can be very helpful way to learn and discuss private practice issues with other colleagues. It takes a lot of work to start a practice, so be sure you are putting at least 20 hours per week into your marketing in the beginning. Remember that you need to keep marketing, even when you are busy! Write articles and be known in the community. When you define a niche, your services will be desired and you will be looked at as an expert. Don't forget to give back. Keep at least one slot open for pro bono services. This will help you feel good about what you are doing and help the client at the same time. Several times, as an unintended consequence, I have had referrals for (paying) clients as a result of my pro bono services.
Find Buck Black online at buckblack.com, truckertherapy.com (and on facebook and linkedin).
Found a niche or approach you want to share with others?  Write WTCI to suggest an interview.
2 Comments
Leave a Response
You must be logged in to post a comment.