Interview: David Diana, Author of "Change Therapy"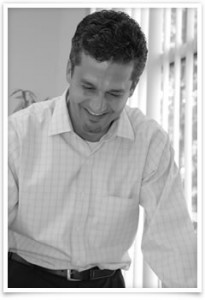 David P. Diana is a licensed professional counselor, writer, and practice consultant.  He talked to WTCI via email, part of a continuing series of practice consultant interviews.
What's your background?
I graduated from Boston College with a degree in psychology and received my masters degree in counseling from the George Washington University. I became a licensed professional counselor shortly thereafter. I knew early on that I was going to pursue some kind of career in mental health, but I just didn't know how or what it would look like.
I remember, quite clearly, that I struggled mightily once I received my masters degree. I had all these grandiose ideas about starting my own private practice but had absolutely no idea what that truly entailed. When I think back to that time I wish someone would have given me a good shake or dumped some cold water over my head…anything to wake me up to reality!
I spent a few years trying to build my career as a clinician and it was quite disheartening. I took jobs hoping to move one step closer to my career goals only to find myself feeling boxed in and stuck in a series of dead end jobs.
But here's the honest truth about my circumstances at that time. Most of it was my fault. It took me years to realize that the mental health profession, like any other industry, will gladly define you if you let it. And that's what I did. I didn't make an honest effort. I spent my days hoping the field would find a place for me. It did, but it was never what I had hoped.
I can look back on things now and laugh, but at the time it was truly a painful process.
The "light bulb", for me, did not go off until 1999 when a friend of mine shared an amazing story about how he landed his dream job within the profession. I gained a significant amount of insight from his story, and began to move away from the blame game. I took note of all the wonderful marketing and sales concepts he used to find success – ideas like permission marketing, the true definition of value, sales progressions, and the importance of building relevance and credibility. I'll explain these concepts a bit later. I mention some of them here simply to illustrate that there were a lot of unique approaches to business development I had never thought of at the time. All of them provided motivation for me to change.
Rather than expecting things to come to me, rather than passing up on opportunities or going through the motions, I decided I'd be the initiator. Rather than being average at a lot of things, I chose to become very good at a few things. I set new goals in this direction and have spent the past several years learning, growing, and taking advantage of new opportunities that come my way. It has made all the difference in terms of my personal enjoyment and the general satisfaction I get from doing my work.
What do you do now?
At present, I am a writer, consultant and the Director of Business Development for a large behavioral health care organization. Essentially, I am responsible for ensuring my organization's treatment facilities are growing. It's a fun job because I have a say in the services we offer and I am able to partner with people in the community who are doing some incredible things with regards to mental health services.
After 1999, I realized I had interests and passions within the field that could be nurtured elsewhere. So I began getting involved in business consulting. I worked with Industrial/Organizational Psychologists on work culture and social dynamics to help improve business performance. As the years passed I starting learning skills I felt could be successfully integrated into a mental health paradigm. It seemed to me that a lot of valuable business development innovations and techniques were underutilized in our industry.
What excites me about utilizing sales and marketing concepts in the mental health field is the fact that they can be applied to all settings within the profession. They certainly apply to private practice, but also have relevance in organizations, schools and even as part of the job search process.
When I realized this and started using these concepts within my company I saw our outcomes improve considerably. And when others began using them they saw similar results.
How do you apply some of the principles/approaches (e.g., the true definition of value, sales progressions, the importance of building relevance and credibility) when working with clinicians on private practice building?
There are numerous ways to apply these principles within a mental health model. I tend to take a different approach when people ask me how best to grow a private practice. Here are a few ideas I use as a way to begin applying some of these concepts.
Break Away from a Traditional 1-to-1 Financial Model
When I was working as a private practitioner I was stuck in a "this for that" model. I would provide a 50-minute session in exchange for an hourly fee. The problem with this approach is that I tended to reach the limits of my earning potential quickly. There are only so many hours in the day and there is just so much that the market will bear for my services. I see a lot of private practitioners struggle as they try and grow their practices under this framework.
Where do you turn once you reach the boundaries of your service delivery model? I suggest looking for ways to diversify. Expand your service offerings and/or partner with others in an effort to create multiple streams of income. When you hear stories of people who move from slow and steady growth to immeasurable success what you find, more often than not, are people who leverage the power of passive income. They have found a way to generate income with less effort not through smoke and mirrors but by setting up systems to where they can add value in numerous ways.
I understand that the phrase "passive income" elicits all kinds of negative responses. Many people associate it with pyramid like schemes. But passive income has value if used with purpose and principle. Consider this example.
When I lived in Washington, DC I knew a psychologist who had a thriving practice with offices in Washington DC, Maryland and Virginia. She understood the power of systems and built a practice around up and coming therapists in the DC metro region by offering a win-win opportunity. Talented but inexperienced clinicians received mentoring, supervision, counseling experience and a percentage of earnings while my friend received her own percentage from each practitioner.
This is not a new model for any of you I am sure. However, what struck me about this approach was the fact that it had a snowball effect that seemed unstoppable. My friend's reach within the marketplace was astounding. She had income coming in simultaneously from numerous clinical groups, individual sessions, trainings and workshops without her having to be present for each and every activity.
As a result, she had more time to focus on other business matters such as networking functions, clinical research, strategic development and writing. It made her smarter and more marketable within the field.
Understand that "Markets are Conversations"
A lot of ambitious practitioners choose traditional models of advertising to get the word out that they are open for business. I'm a big believer in marketing one's services aggressively, however, if you're not careful you'll spend a significant amount of money with very little results. I often tell people to be careful not to create marketing materials or to place advertisements that exist in a vacuum. A brochure that you mass mail, business cards you drop off and print ads you place without any kind of follow up will have very limited impact. You need to have a step-by-step process put in place that will take people from point A to Z. I often refer to this practice as a "sales progression". When creating a marketing plan you should identify strategies that build upon one another. For example, if you give a free talk be sure to have a system in place where you are able to follow up with your audience. Have them sign up to receive a newsletter from you or offer them a free tele-seminar that will take place weeks after the training. You want to put systems in place so people have an opportunity to experience what you have to offer and then they are given an additional opportunity to progress to the next level (e.g., seeking individual counseling, signing up for an intensive paid workshop, joining a new group you are facilitating).
There is a considerable shift taking place across all markets that has implications for how you choose to advertise and market your services. Standard marketing messages often have very little emotional appeal and are easily ignored. In addition, today's markets offer a plethora of choices. People can easily ignore your message if they perceive no value. So how do they pay attention to your message? People are looking for substance and value. They are finding it more and more online by asking questions and participating in conversations. You need to find ways to be a valued contributor to those conversations. The great news about this shift is that you do not need large amounts of money to market yourself effectively. You don't need to be on TV or in a magazine to reach your audience.
Your effectiveness as a marketer is not about how slick your brochures are or whether or not you have a compelling name for your practice. It is about your ability to identify communities and to be a valued contributor to the conversations that are taking place. This image should help clarify my point further.
Change Your Definition of "Value"
"Value" is often defined as what one receives in return for some sort of payment. A much better definition of "value" is: the act of offering something beneficial to others without any expectation of receiving something in return.
This is where true growth and opportunity takes place. My friend, who I mentioned earlier, used this model to find his dream job in the field. Initially, he turned down two jobs from one of the largest mental health employers in his area effectively ending any chance of working for them in the future. This would have been true had he not decided to make the decision to help the company find better candidates for the two positions he turned down. And once he filled the two positions for the company his value and credibility went through the roof! He made himself indispensible by thinking of others and helping them achieve their goals. The result: they asked him what he was looking for in a new job and then they created it for him!
A great way to build your network and to increase your relevance in your market is to find unique ways to offer unexpected value for your potential referral sources and clients. They will be impressed by your generosity and you will be nurturing a consumer base that will have powerful long-term effects.
Find David Diana online and order a copy of his free e-book, "Change Therapy," at www.davidpdiana.com.
1 Comment
Trackbacks
Leave a Response
You must be logged in to post a comment.