Licensing Exam Help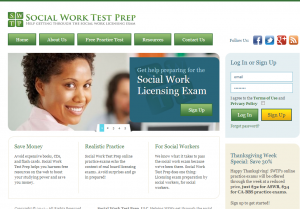 WTCI sister site, Social Work Test Prep, has relaunched as a full-fledged licensing preparation site, complete with real-time practice exams.  License-bound social workers can use the site prepare for the national ASWB or California BBS exams.  In addition to thorough rationales, each SWTP question is accompanied by a suggested study link, helping users harness the free resources of the web to help ready them for the exam.
What people are saying: "Extremely helpful"…"Like the real test"…"Easy to use"…"I especially love the suggested study"…"Trains you to think like a test writer"…"So glad I found the site!"
Here's a page of details.  Here's a  free practice test.  See what you think.
Leave a Response
You must be logged in to post a comment.