In the Shadow of Freud's Couch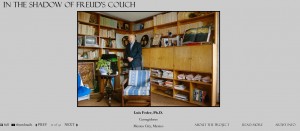 What Your Shrink's Office Says About You…or under what circumstances would you let a fellow therapist photograph you in your office? (Daily Beast):
Thanks to his unique combination of being both a practicing psychoanalyst with nearly 30 years of experience and also a trained professional photographer, Dr. Mark Gerald has been able to throw open a door therapists have traditionally preferred to keep locked. Over the last decade plus, Gerald, who did his psychoanalytical training at NYU's postdoctoral program and studied photography at Pratt, has shot some 70 analysts in both his home base in Manhattan and around the world, all in the natural habitat known as their offices. He calls the project In the Shadow of Freud's Couch.
Leave a Response
You must be logged in to post a comment.